Conference
Multi-participant conference calls that are next level.
Collaboration is the name of the game and having an IP conference call system in your office environment is a must-have for any business that requires the need for multi-participant conversations and meetings.
Business IP conference phone systems have continued to evolve and as a premier office automation company, Daisy Business Solutions are suppliers of the latest in IP conference phone technology. Daisy offers a wide range of conference phone solutions that are designed to enable clear communication, either from a boardroom-style environment, online, or on the move.
Designed with the end-user in mind our conference systems are easy to use and come standard with a range of sophisticated features making them perfect for any sized business. We guarantee crystal clear call quality because our products are equipped with Noise Proof technology allowing your team to focus on what's important, the conversation.
Some of our key product features –
360-degree voice pickup, with a range of 6 meters
Pair your IP conference phones with mobile devices, such as smartphones, PC's and tablets
IP conference phone can also connect to the public switched telephone network (PSTN)
Connect cordless and conference phones to a single base station
Bluetooth capabilities
Collaborate where and how you want, without compromise with the Daisy range of IP conference phone solutions.
Our Conference Products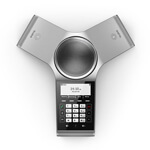 The Daisy CP920 boardroom phone is the ideal IP conference phone solution for small to medium boardrooms, as it provides a 360-degree voice pickup, and up to 6 metres of coverage in all directions.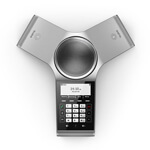 The Daisy CP930W is a unique product in this market segment, which allows easy connectivity to existing DECT solutions and participants to make conference calls where they want when they want.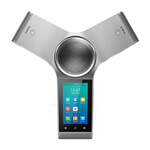 the Daisy CP960 Android IP conference phone takes collaboration of your boardroom to a new level by offering unprecedented audio quality even with multiple conference call participants.
Frequently Asked Conference Questions
What can I use for an IP conference call phone for?
What are the best conference call connectivity services?
How does a conference call work?
Is conference call expensive?
What is the max number of people you can have on a conference call?
How to choose a conference call phone?